NASH Police Headquarters Identified (June 13, 1996)
We get a lot of inquiries about which building in San Francisco is used for Police Headquarters for the Special Investigations Unit on NASH BRIDGES. The beautiful dome ceiling is seen at the beginning of almost every episode. We've speculated for some time which building it was but had no way to confirm it, until now.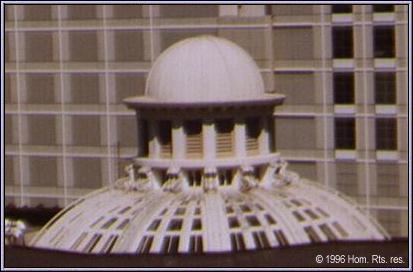 The building is not located in San Francisco, but across the SF Bay in Oakland. The dome is the ceiling to the Oakland Rotunda Building at 16th and Telegraph Streets. The Rotunda Building was heavily damaged during the 1989 Loma Prieta earthquake, and has been closed for renovations ever since. Currently, the building is sealed off and unoccupied - the public is not allowed in.
The photograph we took was taken from the ninth floor of the Oakland City Hall across from the Rotunda Building (the only way the dome is visible from the exterior). The Oakland City Hall and the Mayor's Office inside has also been used by the NASH BRIDGES production.
For more fascinating NASH BRIDGES locations, see The Locations of NASH BRIDGES, Part 1.