| | |
| --- | --- |
| | NASH BRIDGES at the UC Berkeley Campus — April 6, 1996 |
---
by Gordon Hom
For those of you who are familiar with LowTek Creations, Spencer Low (creator of MaxRAM and Webmaster of this site) goes to school at UC Berkeley. Spencer calls me Tuesday morning (April 2) and tells me there's all kinds of trucks and two yellow Barracudas parked on Oxford Street. With the San Francisco-based NASH BRIDGES some 20 miles across the Bay from Berkeley, our brilliant conclusion is that the NASH BRIDGES production is on campus to shoot some sequences for an upcoming episode. I grab my camera and drive into Berkeley.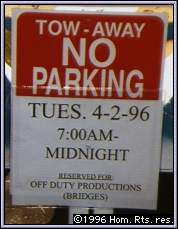 The NASH BRIDGES production definitely took a low profile approach and moved in quietly with no advance announcements. These guys just wanted to come and get their work done. The NASH BRIDGES production settled on Oxford Street with an army of trailers for make-up, wardrobe, and dressing rooms. Parked along this row was also flatbed truck to haul two yellow Barracudas. Farther in on UC property were two other large trucks which presumably held lighting and camera equipment. Signs posted listing "Off-Duty Productions" limited parking around the immediate area.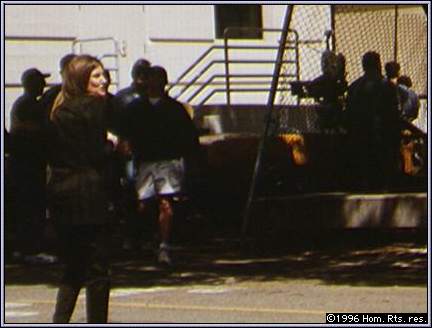 Shooting was in the rear of the Valley Life Sciences Building. Don Johnson and two guest stars were there rehearsing a scene. The yellow 'Cuda was parked near a rear doorway with a concrete stairway. There was some dialog, Don pulled out his gun, their arms went up in the air, Don patted them down, and Don told them to march up the stairs and inside. The director yelled cut and they repeated this sequence several times, with Don re-holstering his weapon each time. It all looked very cool and Hollywoody. Annette O'Toole (who plays Lisa, Nash Bridges first ex-wife) was driven in for some scenes. A relaxed Don Johnson came over to greet and hug Annette.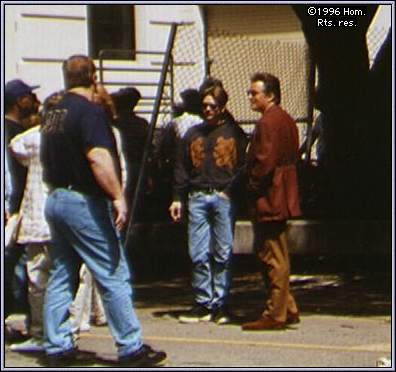 By now a group of fan/students had gathered behind a concrete wall. Second Assistant Director (2nd AD in Hollywood lingo) John M. Morse came over and quipped "Don't you people have classes to go to?" Who cared about classes, they wanted to see Don Johnson. Since shooting had wrapped for this exterior sequence, lo and behold, the 2nd AD did bring Don Johnson over to the delight of the fans. Don waved and signed an autograph and then walked into a huge bus.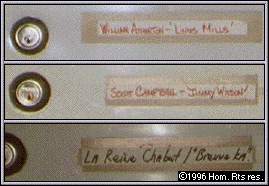 Costume Designer Richard von Ernst told us that this was Episode 9 entitled "Key Witness" that was being shot. Kathleen of wardrobe maintainence, and Ms. Desert, assistant to Mr. von Ernst were present at the Oxford Street trailers. The names on the dressing rooms revealed the Guest Stars for "Key Witness" - William Atherton, Scott Campbell, and La Reine Chabat. We'll have more on Episode 9 when it airs.
All photos are Copyright © 1996 by Gordon Hom with all rights reserved and may not be used without permission. Copyright © 1996-2022 Gordon Hom. All rights reserved. Privacy Policy