| | |
| --- | --- |
| | Part 1, Page 1 of 3 — May 23, 1996 |
---
by Gordon Hom
You won't get any arguments that NASH BRIDGES is shot on location in San Francisco. But where in San Francisco? We looked at the first 8 episodes and noted the backgrounds, the street signs flashed, and the store fronts used. We identified these places on a map, went to the actual places in San Francisco, took a look, and took some photographs to compare. Here's what we saw and discovered...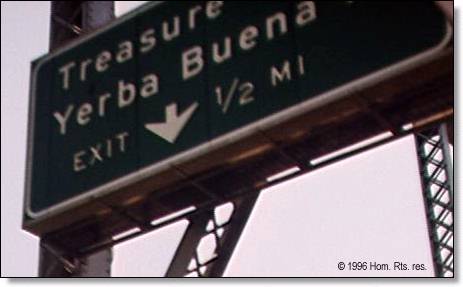 Here's the exit for Treasure Island, where the NB production offices and the two identical Barracudas are kept. This is heading west on the Interstate 80 crossing the Bay Bridge (as you can see from the girders of the bridge) going into San Francisco. There is a Treasure Island Museum with lots of displays on the histories of the Navy, Marine Corps and Coast Guard, including an exhibit about the 1939-40 Golden Gate International Exposition, history of the Bay Bridge and the China Clipper Flying Boats. Phone (415) 395-5067.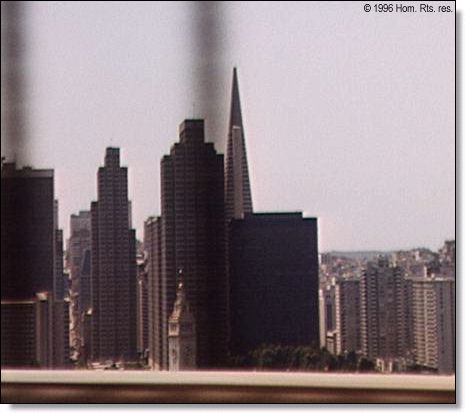 This is the spectacular skyline view as you enter "The City" (as San Franciscans call their home) on the Bay Bridge. Our picture doesn't do the view justice. Episode 8, "Key Witness," features a very dynamic moving shot of Nash and Joe in the 'Cuda on the Bay Bridge. Actually the sequence is composed of shots from two bridges, the other being the San Rafael Bridge. The shot shows Nash and Joe heading west into the City (towards a fictitious San Francisco University). The real UC Berkeley campus (which is across the Bay outside of the City), is used as the fictitious university.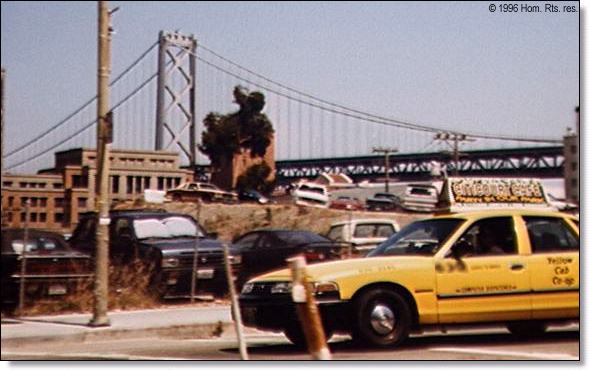 A grand view of the Bay Bridge from the Fremont Street exit, the first exit in San Francisco when you get off the Interstate 80.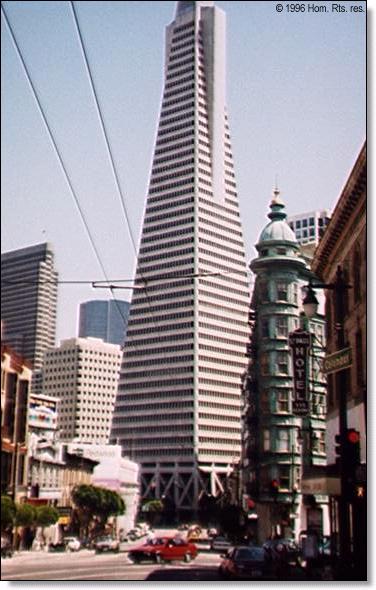 Probably the most identifiable building in the San Francisco skyline, the Transamerica Building at 475 Sansome. This view is from Mr. Bing's Bar at the corner of Kearny and Columbus Streets.
Remember the Dirty Harry sequel SUDDEN IMPACT (1983)? The film's open featured a spectacular aerial fly-by of the night-time San Francisco skyline, with the shot ending and twisting around the Transamerica Building. San Francisco has always been a visual oasis for police films and television series.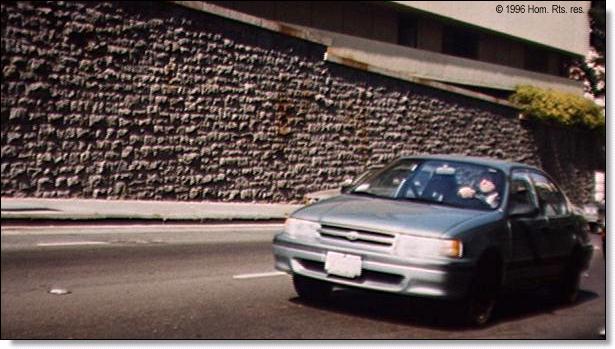 The Brick Wall on Pine Street going towards Mason Street. The Brick Wall is seen in the background during the chase scene in episode 1 "Genesis." This is the first time we see the yellow 'Cuda and the car is put to the test by chasing down a run-away car, getting in front of it, and braking both cars to a stop. But look closely at our photo - Pine Street is a one-way street, GOING THE OTHER WAY. In "Genesis" the chase occurs going the wrong way up a one-way street.
All photos are Copyright © 1996 by Gordon Hom with all rights reserved and may not be used without permission. Copyright © 1996-2022 Gordon Hom. All rights reserved. Privacy Policy