| | |
| --- | --- |
| | September 1, 1996 |
---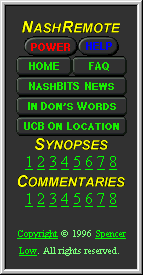 NOTE: The NASHREMOTE is currently offline getting its batteries charged. The NashRemote should be back in operation in a week or so. Thanks.
What is the NASHREMOTE?
The NASHREMOTE is a cool little remote control unit window that pops-up next to your main Web browser window. The NASHREMOTE can be used to browse this entire Web site. It's just like watching TV! The image to the right is what the NASHREMOTE looks like. Pretty cool, huh?
What do I need to use the NASHREMOTE?
The NASHREMOTE requires Netscape 2.0 or newer with JavaScript enabled in the Netscape Preferences. If you have any problems with the NASHREMOTE, it may be due to your Web browser. Please report any problems to Netscape Corporation at http://cgi.netscape.com/cgi-bin/auto_bug.cgi.
How do I use the NASHREMOTE?
Please note that you must have Netscape 2.0 or newer with JavaScript enabled to use the NASHREMOTE. Download Netscape Now!

NOTE: The NASHREMOTE is currently offline getting its batteries charged. The NashRemote should be back in operation in a week or so. Thanks.
Help! The NASHREMOTE doesn't work!
Please note that the NASHREMOTE may or may not work on different systems due to the changing nature of current Web browsers. The NASHREMOTE should work with Netscape 2.0 or newer with JavaScript enabled. If you have any problems with the NASHREMOTE, it may be due to your Web browser. Please report any problems to Netscape Corporation at http://cgi.netscape.com/cgi-bin/auto_bug.cgi.

NOTE: The NASHREMOTE is currently offline getting its batteries charged. The NashRemote should be back in operation in a week or so. Thanks.
Wow! The NashRemote is great! I love it!
THANKS! We put in a lot of work into the NASHREMOTE and we'd love some fan mail.
Copyright © 1996-2018 Gordon Hom. All rights reserved. Privacy Policy