MACYACK PRO
Ross Brown (awolsp@magma.ca)

Created: September 20, 1995

Updated: July 12, 1996
---
ATTN SYSTEM 7.5 USERS - VoiceBox SoundMaker Fixer 2.0.1
---
Check out our audio demos and animated screen shots of MacYack Pro below!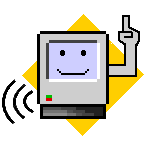 MacYack Pro was a commercial package of speech software available from Scantron Quality Computers. It included 8 programs and 21 voices. MacYack Pro allowed you to take full advantage of Apple's PlainTalk Text-to-Speech synthesis software.
With MacYack Pro, you're able to:
Add speech to any word processor.
Hear notification dialogs and other dialog boxes.
See and hear a customized message at startup or shutdown.
Hear calculations instantly.
Correct pronounciation errors.
Create custom double-clickable "speech files."
Have speaking alert sounds.
Add speech to HyperCard stacks.
Use AppleScript to add speech to other programs.
---
THE PROGRAMS
SpeakAlert by Brian Stern

SpeakItRight by Brian Stern

Articulate by Alex Metcalf

Talking Calculator Pro by Brian Stern
---
| | |
| --- | --- |
| MacYack Pro was available for $29.95. MacYack Pro was backed by a 30-day money back guarantee. You could purchase MacYack Pro from Scantron Quality Computers at: | |
Web Site
http://www.sqc.com/
E-Mail
sales@sqc.com
Phone
Educational
Consumer

1-800-777-3642
1-800-966-1508
Fax
810-774-2698
Mail
Scantron Quality Computers
Attention: Sales
20200 Nine Mile Rd.
St. Clair Shores, MI 48080
For large volume orders and bid requests:
E-Mail
wlpotts@sqc.com
Phone
1-800-777-3642
ext. 708
Fax
810-774-2698
Mail
Scantron Quality Computers
Attention: Bill Potts
20200 Nine Mile Rd.
St. Clair Shores, MI 48080
---
Technical support was available via Scantron Quality Computers Technical Support Monday through Friday 8 AM to 8 PM (EST) at:
E-Mail
tech@sqc.com
Phone
810-774-2680
Fax
810-774-2698
Mail
Scantron Quality Computers
Attention: Technical Support
20200 Nine Mile Rd.
St. Clair Shores, MI 48080
---
SPEECH RELATED LINKS
---